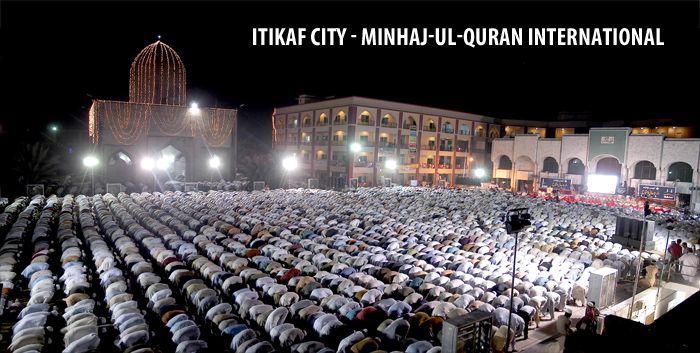 Addressing a joint press conference in the Itikaf City, MQI's Secretary General and the head of central Itikaf Committee Sheikh Zahid Fayyaz and Secretary of the Itikaf Committee Jawad Hamid said that arrangements had been completed for the Itikaf 2013, which is all set to start from Tuesday evening onwards. They said that the thousands of men and women would become residents of Itikaf City, the second largest gathering of the faithful after the one held at the Two Holy Mosques in Saudi Arabia, in the company of Shaykh-ul-Islam Dr Tahir-ul-Qadri, adding that they would stay there till sighting of the moon. They said that hundreds of people would also attend Itikaf from abroad. They said that separate arrangements had been made for men and women.
Sheikh Zahid Fayyaz and Jawad Hamid said that people from Karachi, Quetta, Gilgit-Baltistan, interior Sindh, KPK, Balochistan and Azad Kashmir had started arriving to attend Itikaf. The process of registration came to an end a few days ago as no space was available. Those who did not register themselves in advance would not be able to attend Itikaf. Ahmad Nawaz Anjum, Sajid Mahmood Bhatti, Qazi Faiz ul Islam, Abdul Hafiz Ch, Shahzad Rasool and heads of administrative committees were also present on the occasion of press conference.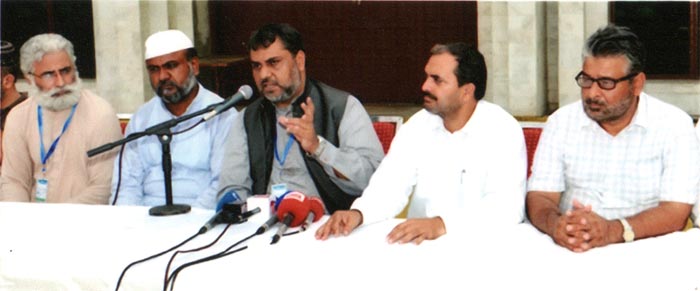 Sheikh Zahid Fayyaz told the media men that more than 2000 volunteers of MYL and MSM would perform the security duty whereas the local administration had also provided fool-proof security. He said that security cameras had been installed at important locations. He said that walk-through gates had been set up at the entrance of Itikaf City while huge sized fans had also been installed to take care of hot and humid weather.
The head of Itikaf Committee said that a team of 25 doctors would remain on duty round the clock during the ten days of Itikaf while 11 ambulances of Minhaj Welfare Foundation had also been detailed for the same purpose. He said that men would attend Itikaf at Jamia al-Minhaj while women would stay in Minhaj Girls College. He said that Shaykh-ul-Islam Dr Muhammad Tahir-ul-Qadri would deliver his lectures on the Holy Quran and spiritualism this year as well for the ten days. His lectures would begin after Isha prayers at night and conclude before Sehri. In order to facilitate people to listen to Shaykh-ul-Islam, a huge LED screens had been installed. The participants of Itikaf would take rest after Fajr prayers followed by performance of individual and collective worship.

Sheikh Zahid Fayyaz said that Minhaj.TV would broadcast the speeches of Shaykh-ul-Islam live around the world. At the same time, Minhaj Internet Bureau had also made arrangements to relay the proceedings of the mega event globally in addition to covering other related activities during the Itikaf. He said that millions of people would be able to watch the proceedings at Itikaf City in this manner. He said that arrangements were also in place to deliver 'sehri' and 'iftari' on time to the participants of the Itikaf City in addition to availability of cold water in the venue.