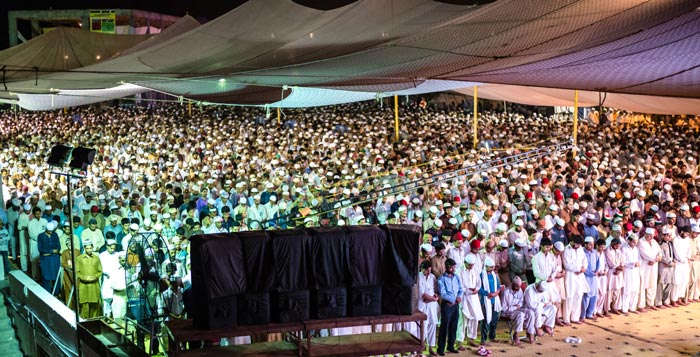 Thousands of people joined Itikaf City of Minhaj-ul-Quran International this evening at Jamia al-Minhaj in the company of Shaykh-ul-Islam Dr Muhammad Tahir-ul-Qadri. Thus the 23rd Itikaf City of the Muslim world, the second largest gathering after the one held at the Two Holy Mosques, got underway in Township area of Lahore. The people from Gilgit-Baltistan, South Punjab, Sindh, and Balochistan started arriving a day earlier to take part in the Itikaf City. The potential residents of Itikaf City flocked to the venue since morning and a great rush of people could be seen from afternoon to evening. Those who had got themselves registered in advance easily reached their pre-determined places while others went through the registration process to be able to get entry into the venue.
Separate arrangements have been made for women residents of Itikaf City. Shaykh-ul-Islam Dr Muhammad Tahir-ul-Qadri will deliver his lectures on the Holy Quran and spiritualism after 'Traveh' prayers. His lectures will be shown to women's side through huge LED screens. Minhaj.tv will broadcast the speeches around the world.
Elaborate arrangements of sehri and iftari have been made at the Itikaf City, while power supply will be ensured through generators during the load-shedding. Arrangements have been made for cleanliness and ablution at a massive scale. A team of 25 doctors will also remain available round the clock to cater to any medical need while 11 ambulances of Minhaj Welfare Foundation and medical services of 1122 Service have also been provided at the venue to meet any emergency.
The arrangements for sufficient water availability will have also been made. At the same time, hundreds of fans including 60 huge sized fans have been installed in the Itikaf City to take care of hot and humid weather. A control room has been established to facilitate coordination among 100 administrative committees. In addition to heavy police deployment, 2000 volunteers of MYL and 1000 volunteers of MWL will perform the security duty during Itikaf.