Following the path of Allah will rid us of our problems: Dr Hassan Mohi-ud-Din Qadri addresses Juma-tul-Wida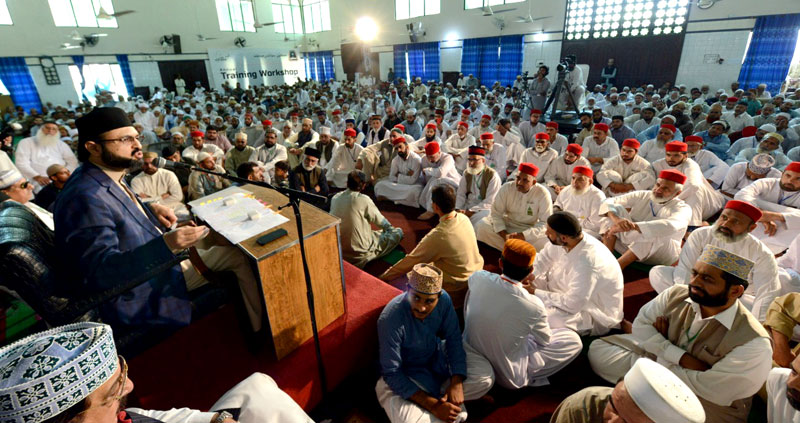 Addressing the congregation of the last Friday of Ramazan, Chairman of MQI Supreme Council Dr Hassan Mohi-ud-Din Qadri has said that the salvation of the Muslims lies in adopting the path of faith. He said that since the time Muslims deviated from the teachings of the Quran, they have been overwhelmed by fear, conspiracies, and challenges offered by the anti-Islam forces. He said that we can become prosperous and overcome all the challenges if we follow the path that our beloved Holy Prophet (SAW) set for us.
Dr Hassan Mohi-ud-Din Qadri said that the last ten days of Ramazan are very sacred. He said that we should use this window of opportunity to pray to our Lord to forgive our sins and steer Pakistan out of multiple crises in which it remains stuck. He said that Pakistan was created as an ideal Islamic state, stating that we will have to walk on the path of the Quran and Sunna in order to deserve the aid and support of Allah. He said that unrepentant and disobedient people suffered the torment of Allah. He said that He puts those people and societies through fear, helplessness, and humiliation with whom He is angry, stating that economic hardships and poverty are also among the torments of Allah.
Chairman MQI Supreme Council said that today we regret the destruction of the economy and wail about the hardships presented by skyrocketing inflation and unemployment but are not ready to review our actions and conduct. He said that we would get solace, comfort, and peace only after we end the disobedience of Allah and pledge to follow His path.
Thousands of the faithful made Dua for peace, progress, and prosperity of Pakistan. President of MQI Dr Hussain Mohi-ud-Din Qadri, Khurram Nawaz Gandapur, Engr. Rafique Najam, Sardar Shakir Mazari, Jawad Hamid and other central leaders also offered their Friday prayers at Itikaf City.
Your Comments