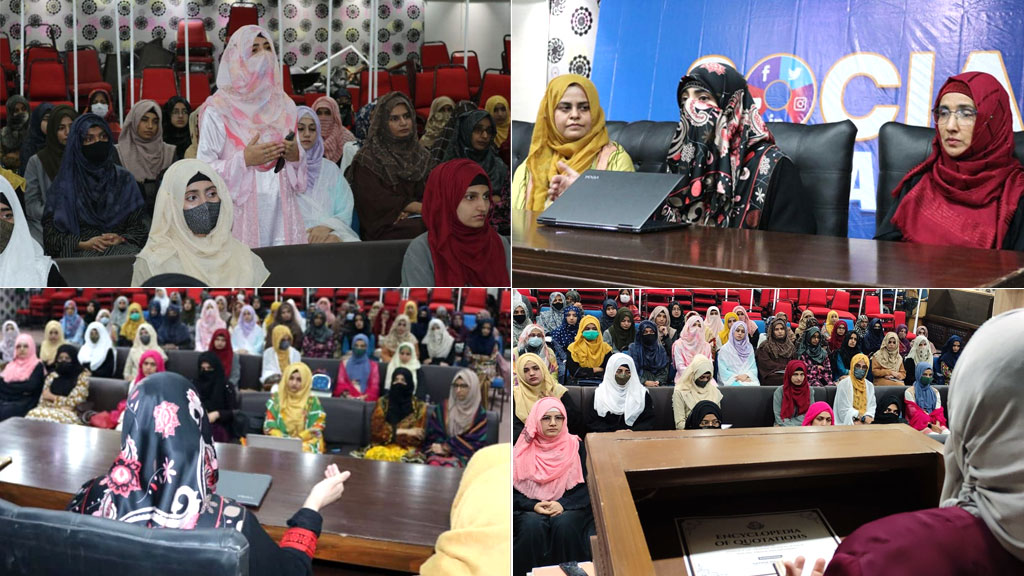 During Itikaf, 𝙈𝙧𝙨. 𝑭𝒊𝒛𝒛𝒂𝒉 𝑯𝒖𝒔𝒔𝒂𝒊𝒏 𝑸𝒂𝒅𝒓𝒊 𝙝𝙚𝙡𝙙 𝙖𝙣 𝙞𝙣𝙩𝙚𝙧𝙖𝙘𝙩𝙞𝙫𝙚 𝙨𝙚𝙨𝙨𝙞𝙤𝙣 𝙬𝙞𝙩𝙝 𝙩𝙝𝙚 𝙨𝙤𝙘𝙞𝙖𝙡 𝙢𝙚𝙙𝙞𝙖 𝙖𝙘𝙩𝙞𝙫𝙞𝙨𝙩𝙨 who were part of women itikaf. She was briefed about the overall working of social media teams. Speaking on the occasion, she said that 𝒊𝒏 𝒕𝒐𝒅𝒂𝒚'𝒔 𝒘𝒐𝒓𝒍𝒅, 𝒔𝒐𝒄𝒊𝒂𝒍 𝒎𝒆𝒅𝒊𝒂 𝒉𝒂𝒔 𝒃𝒆𝒄𝒐𝒎𝒆 𝒂 𝒗𝒆𝒓𝒚 𝒇𝒂𝒔𝒕 𝒂𝒏𝒅 𝒆𝒇𝒇𝒆𝒄𝒕𝒊𝒗𝒆 𝒎𝒆𝒅𝒊𝒖𝒎 𝒐𝒇 𝒑𝒓𝒐𝒎𝒐𝒕𝒊𝒏𝒈 𝑫𝒂𝒘𝒂𝒉 𝒘𝒐𝒓𝒌.
Mrs. Fizzah Hussain Qadri emphasized the need for sticking to ethical values while using social media because this cyber world has temptations and attractions, and 𝒂 𝒔𝒖𝒄𝒄𝒆𝒔𝒔𝒇𝒖𝒍 𝒄𝒚𝒃𝒆𝒓 𝑫𝒂'𝒊 𝒊𝒔 𝒐𝒏𝒆 𝒘𝒉𝒐 𝒊𝒔 𝒏𝒐𝒕 𝒕𝒆𝒎𝒑𝒕𝒆𝒅 𝒃𝒚 𝒕𝒉𝒆𝒔𝒆 𝒂𝒕𝒕𝒓𝒂𝒄𝒕𝒊𝒐𝒏𝒔 𝒂𝒏𝒅 𝒌𝒆𝒆𝒑𝒔 𝒂 𝒇𝒊𝒓𝒎 𝒇𝒐𝒄𝒖𝒔 𝒐𝒏 𝒕𝒉𝒆 𝒘𝒐𝒓𝒌 𝒐𝒇 𝒅𝒂𝒘𝒂𝒉.
Mrs. Fizzah Qadri also laid stress upon the time management in response to a question asked about creating a balance in routine life and work of social media. She said that 𝒘𝒉𝒊𝒍𝒆 𝒄𝒐𝒏𝒕𝒓𝒊𝒃𝒖𝒕𝒊𝒏𝒈 𝒕𝒐 𝒅𝒂𝒘𝒂𝒉 𝒘𝒐𝒓𝒌 𝒊𝒏 𝒕𝒉𝒆 𝒄𝒚𝒃𝒆𝒓 𝒘𝒐𝒓𝒍𝒅, 𝒘𝒆 𝒎𝒖𝒔𝒕 𝒏𝒐𝒕 𝒏𝒆𝒈𝒍𝒆𝒄𝒕 𝒐𝒖𝒓 𝒃𝒂𝒔𝒊𝒄 𝒓𝒆𝒔𝒑𝒐𝒏𝒔𝒊𝒃𝒊𝒍𝒊𝒕𝒊𝒆𝒔. 𝑰𝒏𝒔𝒕𝒆𝒂𝒅, 𝒘𝒆 𝒔𝒉𝒐𝒖𝒍𝒅 𝒃𝒆 𝒘𝒆𝒍𝒍 𝒑𝒍𝒂𝒏𝒏𝒆𝒅 𝒊𝒏 𝒐𝒖𝒓 𝒍𝒊𝒇𝒆 𝒂𝒏𝒅 𝒏𝒆𝒆𝒅 𝒕𝒐 𝒔𝒄𝒉𝒆𝒅𝒖𝒍𝒆 𝒐𝒖𝒓 𝒕𝒂𝒔𝒌𝒔 𝒕𝒐 𝒌𝒆𝒆𝒑 𝒂 𝒇𝒊𝒏𝒆 𝒃𝒂𝒍𝒂𝒏𝒄𝒆 𝒃𝒆𝒕𝒘𝒆𝒆𝒏 𝒐𝒖𝒓 𝒔𝒐𝒄𝒊𝒂𝒍 𝒎𝒆𝒅𝒊𝒂 𝒘𝒐𝒓𝒌 𝒂𝒏𝒅 𝒐𝒕𝒉𝒆𝒓 𝒓𝒆𝒔𝒑𝒐𝒏𝒔𝒊𝒃𝒊𝒍𝒊𝒕𝒊𝒆𝒔.
President MWL Pakistan Dr. Farah Naz also addressed the audience. Towards the end, Mrs. Fizzah Qadri presented certificates to the most active members working on social media. Seniors MWL social media activists, Mrs. Shakira Chaudhary and Mrs. Ayesha Mubashir were also present during the session.